The large size is over 9 1/2" overall. It has a blade about 5" (13cm) long, .88" wide, and .119" thick. The sheath and knife weigh just over 6 ounces. This one might be better for those with larger hands.

#5218-o; with a stainless steel blade and light colored sheath,
I bought a few of these from another dealer. The sheaths are slightly stained from storage, but the wood is super-select. These were the ones he held back for himself. $89
#5218; with a polished carbon steel blade and light colored sheath. $79
#5218-spec; with a polished carbon steel blade and light colored sheath. Old inventory with slight stains on sheath. The handles have been dipped in shellac. $59
---

Aito Puukko
#1244; The Aito Puukko is one of my personal favorites. The handle is built up from stacked layers of birch bark with solid ends of red bronze. There are also bronze and Black fiber decorative spacers. The handle is polished and oiled, rather than Varnished, and is more common. This improves the grip, and is much more comfortable. It's about 4 1/8" long and fits my small to average sized hand perfectly. It has just enough shape for control without restricting you to any single grip. The blade is unpolished carbon steel of a useful size and shape. It's about 3 3/8" long, 7/8" wide, and 1/8" thick. The tang of the blade extends the full length of the handle and is visible at the pommel. The sheath has a plastic insert and a brass reinforcing band at the top. The suspension strap is attached to the band with a ring. I can see the whole outfit lasting several generations. The knife and sheath weigh a bit over six ounces. $135
The name Aito has a double meaning. There was a man named Aito Järvenpää who worked at the factory for about fifty years. He was both skilled and well liked. The word itself means something like "genuine" or "original" in Finnish.
---

Pigeon Knife
#9223; The Pigeon knife is designed especially for bird and other small game hunters. It has short 2 1/4" polished carbon steel blade with an acute point. The handle is an attractive assembly with curly birch at both ends, and stacked birch bark in the center. It's treated with linseed oil, giving great feeling and grip also when wet. The handle is about 3 7/8" long, and works best with average or slightly smaller hands. The knife would also make a very nice upscale whittling knife. $79.
---

Leuku
The Leuku is the traditional camp knife of the Saami (Lapp) peoples. It combines the functions of knife and machete, and is the constant companion of this northern nomadic folk. It is used for gathering firewood, butchering reindeer and similar tasks. These are supplied with curly birch handles and nickel silver trim. They have the same flat pommel as the Lappland puukkos. Again, the leather sheath takes almost the entire knife. The Leuku is about a foot long with a blade just over 7 inches long and 1 1/4" wide.
#5229-b, (shown) carbon steel blade, black except for the bevel, about .127" thick, $99 Out of Stock
#5229-o, stainless steel blade, about .115" thick, $115
---

Puukko and Leuku Combination
A combination of the 3 7/8" puukko and the 7" leuku in a double sheath.
#5629-b; in carbon steel (shown) with the sides of the blade left black, $145
#5628-o: in stainless steel, $159
You can click here for a comparison image of these knives (35KB).
---

Fillet Knife and Utility Puukko Combination
#6629-o; A combination of the 6" fish fillet knife and small 3 1/4" utility Puukko in a double sheath. This one makes a lot of sense to me. I can see the need for both a utility knife and a fillet knife for a wilderness fisherman. The filet knife is stainless and the puukko is carbon. The simple birch handles and sensibly sized blades keep the weight down to about 6 ounces including the sheath. It's not burdensome on the belt. $69

---

Classic Utility Knife
#8224 A revival of an old classic, it comes with a 3 1/4" (8cm) carbon steel blade with the sides left black for a rustic look. The blade is about.130" thick and a bit less than 7/8" wide at the base. The tang extends the full length of the handle. The handle is curly birch, with a girth suitable for average or slightly larger hands. It's about 4 1/4" long, The traditional leather sheath hangs from a twisted thong, and can be used for either left or right handed carry. The knife and sheath weigh about 4 1/2 ounces. This knife would have been at home on the belt of a farmer or forester. It has a nicely minimalist look, and is about all the knife anyone really needs. $59
---

Kauhavalainen Puukko
#1156; One of the oldest styles of Puukko, with rounded brass pommel and stacked birch bark handle. The handle is particularly comfortable. The tooled leather sheath has brass trim at the throat and tip. The carbon steel blade is just under 4 inches (10cm) long, and the overall length is 8 inches. This is one I could happily live with for my own use. A true classic at $135
---

Hirvikoira Puukko
#4217; Here's a variation with an Elkhound pommel that could pass for a wolf. The handle is curly birch. It comes with a carbon steel blade of just under 4" (10cm) for $135
---

The Moose Hunter
#1243 This is purpose built for the big game hunter. The generously proportioned handle is assembled from curly birch, red brass and leather. There is a guard to keep your fingers off the blade when working inside a body cavity. The carbon steel blade is about 3 1/4" (8.5cm), which allows you to guide the tip with your index finger on top of the blade for delicate skinning. The length overall is just under 8". This is a great worker for those with large hands.
The price is $99
---

The Bear Hunter
#4239; The Bear Hunter has a finely detailed casting of a bear's head for a pommel. The substantial grip is built up of birch and leather with a matching brass ferrule. It's about 4 1/4" long and sized for larger hands. The stout carbon steel blade is almost 6" (15cm) long, 1 1/4" wide and .166". thick. Impressive!
The Price is $185.
---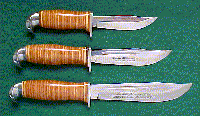 Scout and Hunting Knives
Traditionally, Scouts in Scandinavia use knives with guards, often in snap style sheaths. These are cataloged as Scout knives, but the blade shape seems more suited to the dedicated hunter. They all have carbon steel blades, about .120" thick, stacked leather handles with aluminum guards and pommels. The tangs run the full length of the handle, and are visible at the pommel.

#3445; This is the smallest, with a blade length of about 3 5/8". The handle has only about 3" between the guard and pommel, so it's suited for children or smaller ladies. The knife and sheath weigh about 3 3/4 ounces. $63

#3447; The midsized version seems the most useful to me. The blade is about 4 5/8" long and 1" wide. The handle has about 3 3/4" between guard and pommel and is very comfortable in my average sized hand. The knife and sheath weigh just under 5 ounces.$69

#3449; This is the largest of the three. The blade is about 5 7/8" long and the handle has 4 7/8" between guard and pommel. The grip is fairly small in diameter, so it's still suitable for average sized hands. While the use of aluminium keeps the weight down to just over 4 1/2 ounces, much of the weight is in the blade. It's suitable for light chopping and general camp chores, as well as butchering large game. The knife and sheath weigh about 6 3/4 ounces. $94
---

Woodcarver's Knife
#9221; A classic carving tool with 2 1/4" (6cm) carbon steel blade. The handle is about 4 3/8" long, and sized for average sized hands. The nicely styled leather sheath has a belt loop that will take belts up to about 2 1/4" wide. $45
---

Chipcarver's Knife
#9222; Another carving tool optimised for chip carving, or other detail work. The carbon steel blade is about 2 1/2" long. The handle is a bit shorter at about 3 3/4". This facilitates palming the handle when chip carving. Again, the leather sheath has a plastic liner, and will take belts up to about 2 1/4". $45
---

Duck Hunter
#6283, the Duck Hunter has a handle formed to help keep your hand securely in place, even when wet. The carbon steel blade is a stubby 3 3/8" (8.5cm) long, and well shaped for a variety of tasks. It comes with a simple pouch sheath. This one feels like a worker to me. $59
---

Utility Puukko
This is a no-frills utility puukko in a kalevala style flat sheath.
#6316, 3 7/8" (10 cm) carbon steel blade, $39
---

Shipping and handling is $6 per order (not per item) anywhere in the US. Standard shipping is by Priority Mail, so please give me your mailing address, not your UPS address. The $6 doesn't actually cover the cost in many cases, but it's easy to calculate, and is my way of saying "thank you".
Orders in New York State require sales tax. If you don't know the sales tax in your county, I can calculate it for you, but you should expect it to be added. This applies only to orders shipped to addresses within New York State.
I'm sorry, U.S. orders only please.
Most folks use a credit card and the encrypted secure order form. If you prefer, you can FAX your order to 716-731-3715. I'll need the type of card (Discover, Visa, or Master Charge), card number and expiration date. Of course I'll also need to know what you are buying, and where to send it. Please include your e-mail address.
If you don't have a FAX, you can call 716-731-3715. If your timing is good, you can just speak to me and give me the order. If I'm not in the office it will default to the FAX machine. No collect calls.
If instant gratification is unavailable, you can always send a Postal Money Order or check to:
Ragweed Forge
PO Box 326
Sanborn, NY 14132
The Postal Snail may be slow, but he's faithful and discreet. Checks may be held for clearance, so if you're in a hurry, use a money order.
Everything on the page should be on hand and ready to ship. However some items may be short supply, so if you are ordering by mail, you might want to e-mail first so that I can hold your item (ragnar@ragweedforge.com).
---
Back to the home page