Viking and Celtic Jewelry
Pins, brooches, Clasps, etc.
The most typical brooch, the penannular or "ring pin", has its own page.
Click on the images for an enlarged view.
---

Viking Hair Pin
A classic Viking Hair pin with a multifaceted terminal knob. About 5" long, it's crafted in silver and imported from Sweden. $49.
---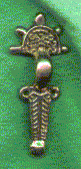 Visigoth Fibula
A classic Fibula done in polished bronze, with a fine steel pin on the back for secure attachment.
It is a bit less than 3" tall, and the price is $29.
---

Forged Iron Fibula
#S-79; A fairly large, but light weight fibula forged of black iron. the pin is about 4 3/4" long. This is a well forged and accurate reproduction of a timeless piece. I wish I could make them this nicely! Imported from Sweden, $32.
---

Back to the home page